Why Commercial Painting Safety Should Matter To You, the Carmel Business Owner
Hiring a commercial painting contractor instead of using your own staff to paint your business can be beneficial in several ways. If it's time to repaint your interior or exterior, our knowledgeable team is here to help you plan your project. We make sure that the process goes smoothly and that you can return to your normal operations quickly. These are some reasons to work with a commercial painting company instead of asking employees to paint.
1. It Costs Less in the End
Have you ever tried to accomplish a project and took a wrong step or did something else incorrectly? When that happens, it sometimes costs you more money to fix the problem. With painting, some common mistakes are using the wrong type of paint, choosing the wrong color or not properly preparing the surface. If you choose the wrong color or type of paint and have to repaint, it'll cost you more to buy new paint and supplies. If you don't prepare the surface, the result will look unattractive.
When you wind up contacting a professional to fix these or other issues, you pay for two painting jobs. If the painting company is insured and licensed, you have the assurance that you won't pay more than what you're quoted in the beginning. This makes it much easier for you to plan a budget and avoid unnecessary expenses.
2. You Can Avoid Employee Injuries
It only takes a second for an employee to fall and sustain a serious injury. With painting, there are other potential hazards. For example, your staff may not know how to properly ventilate the area. Paint fumes can be harmful without ventilation. With proper ventilation, there's just a temporary smell of new paint. Employees may not wear the right masks or safety goggles. If an employee tries to sand old paint without goggles and a respirator, there are multiple injury and health risks.
Once an employee is injured, you lose money from reduced productivity. You also lose time and money dealing with unnecessary insurance paperwork and worker's compensation issues. Alternately, when you hire a commercial painting contractor, you eliminate these risks. Painting companies maintain their own insurance to cover their painters. Also, they work with you to create a safety plan if customers or employees will be in the building while they're there. They may recommend foot traffic arrows, caution signs and other ideas to help reduce the risks of any injuries.
3. You Can Reduce Disruptions
When you have your workforce handle the painting project, there are inevitable disruptions. They may paint during work hours when they'd normally be doing their other tasks. They may instead come in after normal hours. In one scenario, you'll deal with reduced productivity during working hours. In the other scenario, you'll pay part-time workers extra to help out or overtime wages to full-time workers. Either way, it'll cost you extra money.
To make matters worse, you may experience disruptions that affect other processes. For example, if an employee is too busy painting to submit supply orders, you may run out of a popular item. If your customers need this item, they may be annoyed about the painting project and having to go to a competitor to find what they need. If you have workers painting during business hours, they'll also disrupt other workers who are handling daily operations. When you work with a professional painting company, the painters try to accommodate your scheduling needs. If possible, they may perform all or most of the work after normal hours or on the weekend.
4. You Can Promote Employee Health
Today, many people have environmental allergies or sensitivities. Also, employers may not know the full extent of workers' health struggles. If a person has asthma, being in an environment with paint fumes can cause breathing difficulty. Using the wrong kind of paint and improper ventilation are two common problems with in-house projects.
When you work with professionals, they know how to use fans, windows and systems within the business to help circulate fresh air. Since they often work after normal hours, employee exposure is reduced. Today, professional commercial painters also know how to help companies choose high-quality paints that are not as harmful as some common paints that people choose, such as spray paint.
5. You Can Protect or Build Your Brand
Your painting choices can affect your brand positively or negatively, and this applies to both customers and employees. For example, customers are likely to feel discouraged or disgusted if they keep coming back to see that you're still working on a painting project. If there are unexpected problems and delays, it can negatively impact the morale of employees. Temporary workspace disturbances can be distressing and make concentration harder. Mistakes that employees make because of this can be costly.
When employee morale suffers, your customers can pick up on that. Their confidence in your business may suffer, and you may notice negative reviews about what they see while they're in your building during the project. With professional painting, you'll only give customers and the public something positive to talk about. Be sure to inform both customers and employees of your painting plans before you start.
Call Dutchpopp Painting for Commercial Painting in Carmel IN
We've been in business for over 10 years and know how to handle all types of commercial projects, and we can work in the most challenging environments. These are some benefits of choosing us:
Our painters understand substrates, paint properties and paint characteristics.
We use the latest technologies and equipment.
Our company is fully insured and licensed.
We also offer specialty coatings.
We will be happy to consult with you about your scheduling needs, paint color preferences and more. Rest assured that we finish every project on time and within your set budget. Please contact Dutchpopp Painting for a free estimate on commercial painting services in Carmel IN.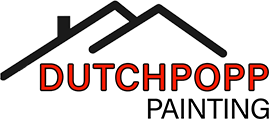 Get Your Free Quote Today