Residential Painting in Hamilton County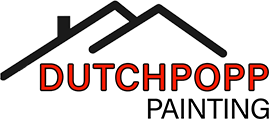 You might be wondering, "Where can I find painters near me?" We're here to tell you that DutchPopp Painting is the residential painting contractor that you should call whenever you have a painting project around the house. We love the work that we do for homeowners, and we work on a variety of types of properties. DutchPopp also provides both interior and exterior painting services, so you know that you can trust us with a range of projects. Learn more about our many services, expertise, customer service, and more by reading more and giving us a call.
At DutchPopp Painting, we pride ourselves on providing homeowners with a range of services. If you need the inside of your house painted, we can provide you with a high level of service. Even high walls and ceilings are a cinch for us because we've been in the business for 15 years.
We also paint house exteriors. From siding and soffits to brick exteriors that need a little bit of a facelift, we'll make the exterior of your home look stunning. And if you hate heights, you'll love how we can reach even the top story of your home with ease.
YES! In fact we give free estimates and we do our very best to meet with customers on their schedule and within a week of booking.
DutchPopp is a first come first serve company. We will give you a good idea of where you would be in line and schedule you from there. During exterior season we do ask for patience as weather is our biggest contributing factor to schedule.
DutchPopp Painting offers interior and exterior painting services for residential and commercial properties, we also offer cabinetry painting, along with staining projects. DutchPopp has sister companies DutchPopp Softwash and Window Cleaning for all your house and window (interior and exterior) cleaning. Softwashing is a safe gentle alternative to pressure washing roofs, siding, gutters/downspouts, and any other house related items. DutchPopp Renovation, LLC specializes in bathroom, kitchen and room remodeling. Our Artisan craftsmen can lend a hand in any of the above items.
DutchPopp Painting, LLC uses many different brands of paint according to the project. For most exteriors we use Sherwin Williams Latitude for our Premium Line and Emerald for our Ultra Premium Line. We will also use PPG Acri-Shield as a premium line if the customer would like. For most interiors we use Super Paint and Emerald from Sherwin Williams. We use Emerald Urethane Trim Enamel for our cabinets and many other paints depending on what we feel will be the best solution for giving the best outcome for your project. We will go over all the options with the customer before the project starts.
Most projects are under $10,000.00 so DutchPopp Painting, LLC requires no money until the project is complete and the customer is happy with the outcome. For projects over $10,000.00 we reserve the right to ask for a minimum down payment for the materials.
YES! DutchPopp Painting gives a 3 year interior and exterior warranty. This is for any craftsmanship issues or paint issues.
Why Hire a Professional Painting Company?
Some people think that they should try to save some money by doing it themselves, but a professional painting company has the experience to get the job done quickly and efficiently with beautiful results. Painting a house takes a lot of time when you don't have the right equipment and know-how, so leave the frustration to us. Instead, you can spend time with your family and friends while we do all of the hard work.
Our Knowledge and Experience
We've been in the home painting business for years, so we know all about how to make your house look stellar. We know understand the properties of paint and how paint should be applied. If you've ever had a paint job on the exterior of your home that began to crack and peel after only a couple of years, more than likely, the paint was applied incorrectly. Otherwise, the paint might have been the wrong kind for the area of the house. We can help you choose your paint colors, but we'll also take the guess work out of determining which kind of paint will work best for a specific space so that the results last for years.
We also know all of the best techniques and how to use the latest equipment. Not only will we bring all of the ladders, paintbrushes, and regular equipment, but we can also bring other pieces of equipment that you would probably have to rent if you tried to paint your house yourself.
We also know that you want to be able to trust the people that you're letting in and around your home. That's why we fully vet our painters upon hiring them. They undergo a full background check so that you know that you're only allowing the best around your home.
What Makes Us a Cut Above the Rest
When you hire us, you're contracting painting services from a company that has everything in place to provide you with a quality painting job, and we want you to feel confident about everything that we'll do.
That's why we offer a 100% guarantee that you'll be completely satisfied with the job that we do. We also know that it's difficult to plan your home projects when you don't know how much certain jobs will cost. And if you're concerned about thinking that the paint job should cost one amount only to later realize that it's significantly more expensive, you'll love that we take the guess work out of hiring a painting contractor by giving free estimates. Just call us out to your house to find out how much it will cost to paint your home.
If you've ever had work done on your home that didn't stand the test of time, you know that it can be frustrating when you need another contractor to fix the work that should have been done correctly the first time. We understand this, too. We know that you don't want the paint on the exterior of your house blistering after one hot summer under the sun's rays, so we guarantee our work for three years. If you begin to notice that your paint is fading or peeling in the first three years after the work is done, give us a call so that we can set things right.
When you have us paint your house, you can know that we'll provide you with customer service that's second to none. When you have a painting contractor go out to your home, you don't want them there for weeks. You need the job done quickly, and we'll make a timeline at the beginning of the project so that you can know exactly how long it will take.
You also want your home to be clean every day after the painters leave. That's why we bring in the drop cloths and other materials at the beginning of our day of painting. When the day is done, we pack everything up so that you don't have a mess around your home.
We're also fully insured so that you can rest easy knowing that your property is always protected. Even if something were to happen, you can know that your property is still safe in our hands.
Our Commitment to Excellence
When we paint your home, we want to provide you with results that are so good that you'll tell all of your friends and family about us. That's why we pay attention to the details. With every paint stroke, we ensure that an even coating is applied. We also ensure that every paint line is straight. If something wouldn't be good enough in one of our home's, it's not good enough for your home. We only provide you with the best possible results.
If you're ready to have the interior or exterior of your house in Carmel IN painted, give us a call. We can get you set up with an appointment, and we'll go out to your house to give you an estimate. We love seeing the excited looks on our customers' faces when they see their freshly painted homes, and we would love to give you the same experience, so give us a call today.