What to Think About When Painting a Indiana Rental Home
Ideally, your Whitestown IN rental property will have a tenant occupying it at all times. Generally speaking, it's easier to attract a tenant when the home's interior and exterior surfaces are covered in a layer of fresh paint. Let's take a closer look at how paint can protect your home from damage and the types that you'll want to use; as well as why you should hire the professional house painters from Dutchpopp Painting to help keep your property looking its best.
How Can Fresh Paint Keep Your Home in Good Condition?
A new coat of paint can help protect your home's siding from sun, water and other types of damage. Although sun damage won't necessarily harm the paint itself, it will cause it to fade, which can reduce your home's curb appeal. Over time, exposure to moisture will often cause paint to crack or blister, which could make the siding itself vulnerable to mold growth or to be eaten by pests.
Ideally, you'll repaint the outside of your house every three to five years depending on weather conditions and the type of paint that you use. It's also a good idea to paint interior surfaces every five years at a minimum. Of course, if your tenants smoke, have pets or have kids, it may be necessary to do so on a more frequent basis.
What Types of Paint Should You Use on a Rental Property?
It's typically in your best interest to use a satin finish on siding and most interior spaces. This is because it is both durable and easy to clean, which means that you won't necessarily have to repaint every time you transition from one tenant to the next. If you'd like, you can feel free to use a glossier paint on shutters, doors and trim to help the home pop when seen from the outside. Paints with higher levels of gloss can also be used on molding or similar surfaces inside the house.
What Colors Should You Use for a Rental Property?
Generally speaking, you'll want to use neutral colors such as white or beige inside of a rental property. This is because it will appeal to a greater number of people, which can make the home easier to rent. It's also worth noting that most tenants won't care what color the kitchen walls are painted. Instead, they'll be more concerned that the place is clean and has been properly maintained. Therefore, it's more important to make sure that you paint on a regular basis even if the inside of the house doesn't stand out in any particular way.
The Importance of Hiring Professional House Painters
Hiring a company that offers room painting services such as Dutchpopp Painting can help to ensure that your next project is completed in a timely and affordable manner. Our team has extensive knowledge about the different types of paints and how to apply it.
Furthermore, our team is ready to work in almost any type of environment, which means that we can get your home ready to be rented whenever you need us. We are fully licensed and insured, which means that you aren't liable for anything that happens while our employees work on your property.
You can learn more about our company by typing painters in my area into your favorite search engine. It may also be possible to find us online by entering our company name into your favorite search engine. While on our website, you can find out more about our commitment to customer service and the specific steps that our team takes to provide maximum value for your money. If you're ready to start with your next home painting project, call the professionals at Dutchpopp Painting in Whitestown IN today. We will come to your property, provide some insights into how we can make your home look its best and give you a free cost estimate. We'll also provide you with an estimated project timeline and other information that can help you make an educated contractor hiring decision.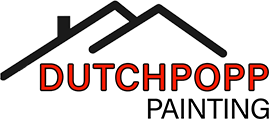 Get Your Free Quote Today