What Color Should I Paint My Kitchen Cabinets?
The kitchen is the heart of the home. It's a hub of activity. When the kitchen starts to feel boring or drab, the whole home can begin to seem boring. One way to rejuvenate your kitchen is to freshen up the cabinets. Rather than replace your cabinets, you might contemplate cabinet refinishing or cabinet painting.
Cabinet painting or refinishing is a less expensive alternative than totally replacing your current cabinetry. Hiring a painting contractor to repaint or refinish your cabinets can take the guesswork out of the process. Contractors can guide you through every step of the process, but you will need to decide the colors you want to use.
Choosing colors for any painting project can be overwhelming. You may be asking yourself, "What color should I choose?" or "What color will look best?" To take the guesswork out of color choice, these are five colors that are popular for today's kitchens.
Blue Kitchen Cabinets
If you're looking for a calming atmosphere with a bold pop of color, blue could be the way to go. The calming nature of blue is a particularly good option for those people who feel more like a contestant on Worst Cooks in America than Gordon Ramsey in the kitchen. Blue can be beautiful combined with wood flooring and a classic white subway tile backsplash. Let your creative juices flow and think about pairing blue cabinetry with oranges or bright yellows. Kitchens are great places for fun experimentation with colors as well as flavors.
Gray Kitchen Cabinets
For someone wanting a trendy look, painted gray cabinetry is comparatively new in popularity. Gray cabinets couple nicely with stainless appliances to give that sleek, contemporary look to the space. Since gray is fairly neutral on the color spectrum, it's like white and pairs well with almost any flooring and backsplash. Although gray is a bit bolder than white, it doesn't tend to look dirty as quickly as white can. Also, like white, gray can be paired with a variety of accent colors to make a courageous statement in the space.
White Kitchen Cabinets
White cabinets are always popular because they give a fresh, sparkling clean look to any kitchen. White is a light, bright color that creates a pleasing atmosphere. White cabinetry matches well with almost any flooring or backsplash. White cabinetry won't make your kitchen feel devoid of color. It's easy to add hints of color to your white kitchen by choosing colorful fabrics for tablecloths, napkins or curtains, or by choosing colorful dishes or artwork. The greatest part of choosing white for your kitchen cabinetry is that it's a timeless color. White kitchens have been fashionable for years, and in all likelihood, they will remain a popular choice for years to come.
Black Kitchen Cabinets
Black is another timeless color. Since the 1920's, black has been a color that is popular for kitchen cabinetry. Like white and gray, it's quite a neutral color choice. Black cabinetry paired with a black and white floor tile would be an elegant classic look, but you could choose to pair black with almost any flooring. The longevity of the popularity of a black color palette make it a solid choice when designing your kitchen. Pair your black cabinetry with bright dishes and artwork and vivid fabrics for a bold, innovative look. A vivid, creative, backsplash choice would pair nicely with the black cabinetry for a touch of a wow factor.
Red Kitchen Cabinets
For a bold, playful look, think about a classic red for your cabinetry. While red isn't your typical kitchen cabinet color, it gives your room a little zing. Paired with a granite or marble countertop and a neutral backsplash, red can certainly give your kitchen an eye-catching appeal. Be careful not to go overboard with the red though. You should want to pair neutral colored, perhaps white, dishware and linens with the bold red cabinets.
Don't Forget that Preparation is Essential
Once you have chosen a color for your kitchen cabinetry, you'll need to decide on a paint. You'll want something that is able to endure all of life's messes. The kitchen is home to liquid spills, oil splatters and other food messes. You'll want to choose a durable paint that won't run the minute water touches it. You want your paint to last, so preparation of all cabinet surfaces are essential to a successful refinishing or repainting job.
The day before your scheduled repainting job, start prepping your cabinets by removing everything from them. Clear off your counter tops and wipe down all your cabinets with a damp cloth to remove any dirt or residue. You'll want a clean surface for painting. A light sanding will help remove any imperfections in the cabinetry that will cause blemishes in your paint. Once the cabinets have been sanded, wipe the cabinetry down with a damp cloth again to remove any unwanted dust or debris.
In addition to cleaning and sanding your cabinetry, you will want to totally sweep and mop the room before painting begins. This will help ensure that dust particles don't find their way onto the wet paint. Even with the use of painters' cloths, it is essential to begin with a clean room. This preparation may seem time consuming, but it is certainly worth the effort when it comes to creating a space that bring beauty and cheer into the heart of your home for years to come.
For cabinet repainting or cabinet refinishing in the Carmel IN area or in the surrounding area, contact us at DutchPopp Painting. We have professionals who can help you with every step of your kitchen project from choosing the perfect paint color for your kitchen to scheduling and completing the repainting of your cabinets.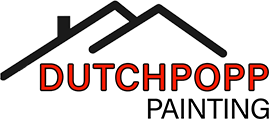 Get Your Free Quote Today