What Are Good Colors for Small Rooms in Indiana?
Whites and beiges are sometimes thought to be the only acceptable color choices for interiors with limited square footage, but this is a common mistake. Using other colors works particularly well in compact spaces. A small room can have the impression of greater depth and character by using the proper color scheme, even if the space has limited lighting.
Best Colors to Paint Your Small Rooms and Spaces
Suitable Paint for a Small Bedroom
When selecting a paint color for a compact bedroom in Fishers IN, you should keep in mind that the purpose of the room is to foster a sense of coziness and relaxation. That implies more subdued colors and pastels for most people, but it truly relies on the kinds of shades you prefer.
Try using warmer tones of creamy beige or blush pink if you wish to keep stuff lighter and more on the neutral side. Try using lilac, lavender, sky blue, or a soft gray for tones that are on the cooler side. Peacock blue is a beautiful color that is obviously bright yet pretty relaxing, making it a good choice if you want to attempt something more daring.
Best Paint for a Small Living Room
If your living space is limited, a small living room is an ideal area to use more vibrant hues. Two options exist, each of which can have a distinct impact on the ambiance of the space. If you would like your living area to be full of vitality and inspire exciting conversations, go for more vibrant colors, such as emerald green, deep red, or bright blue.
Soft gray, lighter sage green, tones of white like eggshell, and off-white are great choices if you would like the space to feel relaxing and soothing. Another alternative is gunmetal gray for inside house painters because it gives an elegant neutral appearance because it is intense and not overbearing.
Best Paint for Hallways in a Small Space
The amount of light entering a hallway throughout the day should be considered when choosing the color to paint them. A corridor without windows would go best with painted walls in a lighter shade of blue, green, or pastel yellow because these colors aid in illuminating the area.
If the small space has some windows, try out a more dramatic impression by using darker colors, such as navy blue or purple. These deeper hues are ideal for entrances as they effectively conceal scuffs, fingerprints, and other marks that that might appear on the walls.
Best Paint for a Small Kitchens
Color may be used greatly in the kitchen because it is more vibrant. A small kitchen is a perfect place to experiment with bolder color choices.
Yellow, green, turquoise, and robin's egg blue are all fantastic choices for interior painting. If you would want to use color but would like something more subdued, mint green or aqua are good choices.
Best Paint for a Small Bathrooms
When decorating a full bathroom on the cramped side, using a hue that gives the illusion of greater space is essential. That's why it's recommended that you use pastel or neutral hues.
Colors like icy blue, cream, or very light aqua are beautiful choices that can bring your bathroom a spa-like atmosphere.
Bolder color options are welcome when painting a small bathroom area. You can make these areas very dark or light because they don't need to trick the eye into thinking they're larger. We recommend teal, sapphire blue, peony pink, and a rich gold-toned peach to create a more striking appearance.
Contact the Interior Painting Professionals
Dutchpopp Painting is ready to help you with interior painting in Fishers IN. The firm commits to converting your dreams and imaginations into reality through its professional home renovation and repainting services. The professionals commit to easily giving your house a new and fresh look. Visit their website today to get a glimpse of the additional services they offer. As the best painters near me, you could also contact them now to schedule a free quotation that will motivate you to start planning.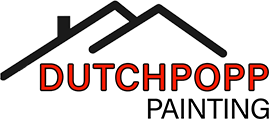 Get Your Free Quote Today