Top Exterior Paint Colors in Carmel IN for 2021
One of the most impactful details a homeowner can pay mind to is the curb appeal of their home. This main component plays a huge role in the home's value and community integration. Color choice plays into your personality, and it lets you share it with those around you. It's also the first thing you see as you are pulling up in the driveway and that rush of comfort knowing that you are home sets you at ease.
However, maintaining a beautiful home goes far beyond exterior painting and some new landscaping. Renovation and change of the home's exterior are important to keeping the home relevant and well maintained.
Carmel IN is known for it's Art District and beautiful architecture. The beautiful homes here are known for staying on trend, and the values continue to see accelerated appreciation. The community tends to lean on professionals like Dutchpopp Painting to continue this momentum.
Dutchpopp, located in Carmel IN, has over a decade of experience providing services for interior and exterior painting of your home. With an excellent track record of customer services, their mission is to make your renovation dreams a reality. Their licensed and insured tradesmen will help you get the job completed on time and on budget.
To help get your creative juices flowing, their design team has compiled a list of the Top Exterior Painting Colors on Trend for 2021:
#1 Warm, Creamy Whites
Timeless, fresh, optimistic, off-white is on-trend when it comes to the residential painting of a home's exterior. The color can truly capture the spirit of a house that is home to love, family, and tranquility. You might turn to a Swiss Coffee or a Seapearl by Benjamin Moore. Pairing these warm whites with wood accents, red detailing in front porch cushions, or intentionally selected plants would be the perfect touch.
#2 Pale Gray
Gray has become one of the new favorites as it provides a simple alternative to beige. Applying a gray tone in juxtaposition with crisp white detailing for a coastal theme that looks refined. Try grays with a warm undertone and hints of Green. Dovetail by Sherwin Williams provides a warm undertone, but it also can read cool under certain lighting. Crushed Ice by Sherwin Williams is a great option too. Both options give off a very Zen look. who doesn't want to feel that way when they arrive home?
#3 Dark Gray
Dark gray homes are becoming more and more popular when choosing an exterior of residential painting. Who isn't a fan of dark, charcoal, moody gray? This color is definitely trending at the moment, but it's also such a classic and timeless color. Some of our favorite dark gray tones include Wrought Iron by Benjamin Moore and Cyberspace by Sherwin Williams.
#4 Beige
If you were thinking about steering clear from beige, think again. You can conjure a classic look with a strong neutral tone and transform your home's exterior into something sharp and exciting. Beige is still warm without the tendency to turn a yellow. The subtle nuance is almost off-white in different lighting. We are favoring Shaker Beige by Benjamin Moore and Accessible Beige by Sherwin Williams as a 2021 go to color. When working with these trending colors for residential painting, the most impactful applications to be those that feature bode, contrasting colors used as a visual outline.
#5 Bronze
While it is next to impossible to bottle up a metallic, Sherwin Williams has come pretty close with their Urbane Bronze. Noting it as their color of the year, this dark bronze tone is starting to become one of the most on-trend exterior paint colors. Aged Bronze by Benjamin Moore has become a good contender as well. These tones look even better when paired with actual bronze metal accents in porch lighting or patio furniture.
#6 Pewter
You may not be able to immediately envision what the color pewter looks like, but its rise in popularity in 2021 has shown us that it's a fan favorite. We can tell you that Benjamin Moore's Revere Pewter and Sherwin William's Pewter Cast look great with natural wood accents. These are here to stay!
#7 Slate Blue
Back in trend this year is a color that marry the best of blue and gray together. Slate blue is a calming and tranquil color, and it reads like a neutral. This is a perfect color for a homeowner that wants to give off a little bit of their personality without diverting too far from the traditional neutrals. It comes in so many different varieties, so we do suggest swatch testing multiple options. You will want pay attention to how the testing samples appear during different times of the day under different levels of cloud coverage. It will strike just the right energy when paired with crisp white edging and dark colored roofing.
#8 Navy Blue
Much like the slate, navy blue is one of those colors that tend to range greatly. You will want to note that some may appear bluer and more traverse into a royal territory. For the purpose of exterior painting, we suggest a more neutral navy blue. Hale Navy by Benjamin Moore and Naval by Sherwin Williams are both great options. This is going to work on coastal bungalows and midcentury modern homes alike. There really aren't too many guidelines that you should be sticking to when it comes to working with a classic such as a navy blue.
#9 Earthy Green
Green is just one of those colors that take a little time researching before you dive right in. We suggest hiring a virtual exterior designer to create a realistic image of what your home would look like fully dressed in this neutral tone. Earthy green, in particular, works especially well as an accent color, but we are seeing more and more homes pull it off on the body. Check out Green Earth by Sherwin Williams and Saybrook Sage from Benjamin Moore for inspiration.
#10 "Wood"
Don't get us wrong, paint can really lighten up the place; however, if you can find some wood elements to stain or add to the exterior of your home then you should definitely do it. In 2021 there is going to be a huge migration toward the earthly shades and the elements that look more natural. Wood is going to be the perfect way to embrace this trend.
It is truly interesting when you start to realize just how a different paint color can change a home's entire look! Once you have chosen the color for the body of the home, you are able to pair it with different finishes and accents to add in your personality and style, and you can really make it feel like it's your home. It's a reflection of you.
It's Time to Get Your Exterior Painting Project Done
If you are wanting to update your home and its curb appeal, check out the exceptional services of Dutchpopp Painting to help you unlock your home's full potential. We will discuss and help you choose what on-trend exterior paint colors that suit you best, and we will help provide you with a game plan to get your project started. Having a seasoned professional in your corner will help you create an educated timeline that will provide as little downtime as possible and keep on budget. We would love to help you give your home and awesome new makeover!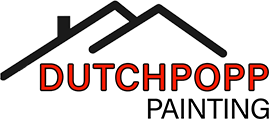 Get Your Free Quote Today