Top 4 Rooms to Paint Before the Holiday Season in Indiana
A new year will be here before you know it. Would you like to create a festive atmosphere in your home this holiday season? Hiring a reputable painting contractor in Zionsville IN makes the most sense. Professional interior painters aren't just licensed and equipped to tackle your project from start to finish. They're also prepared to help you if you want your place to sparkle during the holiday season. Just be sure to choose a complementary color scheme that reflects your jolly spirit. The results of the new paint job will make the space look more inviting and vibrant.
Use these tips and ideas so that your painting project will be a success:
Create a Merry Accent Wall in the Dining Room
Is every wall painted the same color? Pick one of the walls, and let interior painters give it a fresh coat of paint. Bold accent walls are great for showcasing your distinctive style, and they have enduring appeal. Undoubtedly, colored paint can instantly breathe life into a room. Red and green stand out as traditional Christmas colors because they are stylish and eye-catching.
With help from an interior painting contractor in Zionsville IN, your dining room will look brand new this holiday season. Since your guests will likely spend a great deal of time in this room, you should brighten it up as much as possible. You don't need to invest in additional lights because captivating shades can add a lot of flair to any surface. It's a good idea to select colors that match your holiday decorations.
Give the Cabinets in the Kitchen a Nice Facelift
This room provides you with several canvases. You can beautify the walls of your kitchen by applying an elegant finish. Do you wish to increase the uniqueness of your kitchen? You should get creative with the countertops, backsplash and cabinetry. Painting the cabinets will turn them into an aesthetically pleasing focal point.
Whether you want to keep things simple or bring your dream design to fruition, you can rely on color specialists to find the most fitting color scheme. A festive color like glossy red will enhance the shine that you see on the cabinets. Furthermore, you can rest assured that interior painters can potentially raise your property's value. The key is to redesign the cabinetry with superior-grade paint that retains its beauty for years.
Use a Warmer Color for the Guest Room
Did you know that warm colors make rooms feel cozier? Orange, red, yellow and similar colors fall in the warm spectrum. Indeed, these particular hues conjure up images of heat and sunlight. Also, they have the power to make walls appear closer than they are. That's why you can't go wrong with warm colors when your goal is to enhance a room for a holiday gathering. The warmer the colored paint is, the more intimate the space will be.
As you already know, days are shorter and colder during the holiday season in Zionsville IN. The good news is that your newly painted walls will make all the difference.
Consider Your Other Holiday Decor When Touching Up Your Living Room
Your decorations will likely include a mixture of elements so that you can create the ambiance that you desire. To keep everything looking uniform and attractive, you should follow the pattern of those elements. As soon as a painting contractor adds festive colors to your living room, it will be an excellent location for hosting a holiday party.
It's Time to Start Celebrating in a Brighter Home
Because of their wealth of expertise, professional interior painters can complete your holiday-geared projects in half the time. A fast turnaround is a must-have if your family and friends are flying in to celebrate with you at your home. With all of this on your mind, you shouldn't hesitate to get a helping hand from Dutchpopp Painting. We want to be your go-to painting contractor before and after the holiday season. There's no doubt that our proficient interior painters can fulfill your painting needs. We'll get the job done without inconveniencing you. Your satisfaction is our priority. Call Dutchpopp Painting today for a consultation. We want to hear more about your unique vision and favorite colors.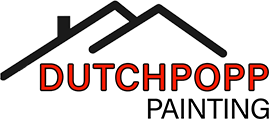 Get Your Free Quote Today