The Difference Between Paint Finishes in Indiana
Are you thinking about painting your Zionsville IN home for the holidays but aren't sure where to start? Painting can be a fairly involved undertaking for any homeowner, so you should definitely hire a painting contractor to handle it for you. The team at Dutchpopp Painting has been in business for 15 years. We have the training, knowledge and experience that homeowners need to get the job done quickly and professionally.
Whether you are painting a few rooms or your entire home, one major consideration is the type of paint used. There are several different types of paint finish you can use in your home, and we'll go over them below.
Types of Paint Finishes
When considering a paint job in your home, your primary consideration will, undoubtedly, be the color of the paint. This is critical, but the finish of the paint, which gives it a unique sheen, is another important factor. Our interior painting professionals will share the difference between these finishes below.
Flat
Paint with a flat finish reflects less light than any of the other types. This means it has a very low sheen of only zero to five percent. It provides excellent coverage to conceal any imperfections on your walls while having almost no shine at all since it absorbs light. Its excellent coverage characteristics will save the painting contractor time, which will save you money. As far as long-term maintenance, however, it will be harder to keep clean, and it's less durable.
Matte
With a sheen of only five to ten percent, matte finishes only reflect a little more light than flat paint while still providing excellent coverage. As with flat finishes, it will still be difficult to clean, which makes it better for less frequented areas of the home.
Eggshell
As far as light reflection is concerned, this finish sits between matte and satin with a sheen of 10 to 25 percent. It's basically matte paint with some added gloss. While it's better than glossy paints at covering imperfections, it also suffers from the low durability and difficult cleaning issues of flat and matte paints. For these reasons, it is often used in bedrooms, living rooms and hallways. One of our home painting specialists can make more specific recommendations after seeing your home and determining your home renovation desires.
Satin
Frequently described as having a finish that is pearl-like or velvety, satin occupies the middle of the spectrum of paint finishes. It has a sheen of 25 to 35 percent and gives you the benefit of being durable and easy to clean. This finish is not as good as flat or matte at covering flaws. Satin may be preferred over these other finishes for kitchens, bathrooms, foyers and hallways since it is easier to clean. Our experienced painters can give you a better recommendation upon seeing exactly what you want to have painted.
Semi-Gloss
Because of their impressive durability, semi-gloss paints are good at standing up to moisture, which makes them an excellent choice for kitchens and bathrooms. The 35 to 75 percent sheen of this finish gives it an impressive level of vibrance and richness compared to those previously discussed. One of our home painting experts might also recommend semi-gloss for your trim around windows and doors but probably not for bedroom or living room walls and ceilings.
High Gloss
If you're looking for paint that's durable and easy to clean, nothing beats high gloss. It's hard and has a brilliant sheen with a gloss of 85 percent or more. This impressively high sheen makes for vivid colors that really pop out in richness and depth. Our painting contractor professionals will typically recommend high gloss for surfaces that experience a lot of use. These surfaces would include doors, cabinets and trims. The biggest negative of high gloss is that it won't cover flaws or imperfections in walls, so you'll need a professional Zionsville IN interior painting contractor to do a thorough job of prep work before applying it.
Your Professional Zionsville IN Painting Company
Our team at Dutchpopp Painting knows the importance of a variety of factors that go into a beautiful paint job. A critical one of these is the finish of the paint. When we come to your home to give you your interior painting estimate, we will utilize our 15 years of experience to make the recommendations on color and finish that will result in a paint job that you'll love. Please contact us today for your house painting needs. Our team has a proven track record for meeting or exceeding homeowners' expectations when it comes to achieving their desired results. We also give you our iron-clad guarantee for three years on every paint job we do, so you will know that it will stand the test of time.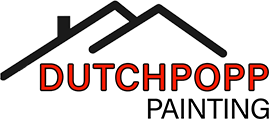 Get Your Free Quote Today