The 2023 Colors of the Year for Indiana
Is it time to repaint your home, and do you have no idea what colors to use? Luckily, this blog post has got you covered.
The 2023 Colors of the Year
Whenever you're indoors, you spend most of the time looking at the walls, and even when you have visitors, the first thing they'll notice is the color of your walls. Several brands have announced their choices for the 2023 color of the year, and you should pick what you'll work with.
The "color of the year" might sound singular, but it is a collection of colors from popular brands like HGTV Home by Sherwin-Williams and Valspar. Thanks to these collections, you can now imagine your bathroom walls being Blue Arrow – Valspar or your hallway painted with the restrained Gold from HGTV Home by Sherwin-Williams. The options are limitless!
The Range of Color(s) in 2023
The colors chosen for 2023 range from bold shades like Darkroom (HGTV Home by Sherwin-Williams' official color of the year), the aptly known as Wall Street to mild neutrals like Cozy White, Villa Grey, Holmes Cream and Ivory Brown by Valspar.
Now that it's time to paint your home, before contacting the painting contractor, let's get into the details of the selected colors for 2023 from Sherwin Williams and Valspar.
Sherwin Williams' Color of the Year 2023
Do you remember the network that had everyone thinking about knocking down their walls and covering them up with shiplap? Well, they have partnered with Sherwin Williams to create a paint color collaboration. The colors chosen for this category include:
Darkroom
This is HGTV Home's official Color of the Year. It's a brown-black paint that's perfect for interior and exterior projects. Darkroom paint by Sherwin Williams adds to the room's visualization and coordination, making everything around feel seen.
Cool Beige
This is an Orange paint color for interior and exterior projects. If you love feeling stylish but at the same time giving your house a balance, cool beige should be your top pick.
Restrained Gold
Also known as old money gold, the yellow-tan paint is ideal if you want classy and vibrant walls. It would be great for your summer house!
Natural Linen
The best color for people who prefer neutral walls or nothing. It's a soft, gray caramel beige paint with a bronze undertone. It's also great for an open floor plan and is best paired with dark furniture.
Hot Cocoa
The hazy paint is ideal for a main wall color, and it gives off "December vibes". You can pair it with creamy cabinets or décor for contrast.
Austere Grey
Do you constantly admire those gray shades that seem to be laughing at you whenever you walk down the hallway? Then green-grey shade – Austere Grey, the most popular gray paint by Sherwin Williams, is gentle and can work in any space.
Poetry Plum
The season of apples is over, and now plums are the new trend. Poetry Plum will soften the room since it's a soothing shade of warm purple. It'll make the room look inviting and livable and is ideal for interior and exterior projects.
Pewter Green
This is a cool sage-y green shade which blends perfectly with grays, giving you a deeper green color that's still neutral. Pewter Green is younger, fresher and has the coolest undertones you'd ever want.
Wall Street
It is a deep yet cool grey-blue color with slight undertones. So, if you love blue rooms, this is the color your painting contractor should work with.
Valspar Color of the Year 2023
Valspar believe that colors are part of our memory, so the colors you choose for your home reflect how you want to capture every moment and make it last. They shared their 12 colors of the year, and you're free to choose from these options for your next painting project.
Ivory Brown
When you think about this color, think about calmness and positivity. Since it's a soft and light color, it will give your home a calm and relaxing feel and offers you space for various possibilities in terms of matching furniture and décor.
Cozy White
This warm shade evokes comfort and ease. The white shade naturally elevates the room, especially if paired with neutrals or earthly woods. For a traditional feel, paint it on cabinets and for a modern rustic style, throw in some natural wood tones.
Gentle Violet
Gentle Violet is a more sophisticated color. It represents harmony and connectivity, especially when used with colorful naturals.
Blue Arrow
Unlike other blue shades, this one is cooled down with a yellow undertone that will give your space a modern feel.
Flora
This is another sophisticated paint color that will make you appreciate everything in your home and life.
Desert Carnation
This color gives off "Inspiration" vibes. Desert Carnation is the best pick if you want to revamp a dull space. The soft, faded, warm color will change any room by giving it a laidback and welcoming feel.
Green Trellis
The color is inspired by nature and becomes complete when paired with modern elements. When matched with darker shades of green, this mid-toned hue gives a visual effect that's lush and layered.
Rising Tide
Choose this color if you want a colorful, eclectic aesthetic feel in your room. It will give any room a personalized look and a stylish feel.
Holmes Cream
Holmes Cream will wrap your home in warmth and happiness. The classic tan embraces sunlight and works well with architectural elements such as wainscoting and decorative molding.
Southern Road
The muted shade of clay with brown undertones reflects the aspects of simplicity and contentment. If you want your home to look more grounded, have Southern Road painted on an accent wall, cabinets or doors.
Villa Grey
It's a balanced neutral, which gives off a clean interior that's peaceful and aesthetic.
Everglade Deck
A rich midnight blue that balances a calming effect and elegance. It's a bold color choice that works well with brass fixtures.
Contact Dutchpopp for Painting Services in Zionsville IN
Dutchpopp Painting has been in business for years and is very experienced with home remodeling projects. The company does an excellent job at painting, turning your home renovation ideas into a reality. Dutchpopp Painting is fully licensed and insured, and the company's teamwork round the clock to ensure you get the best services.
The company prides itself in providing interior and exterior painting services, so you can trust them to do your home project. Furthermore, you'll enjoy the best customer service as you consult on colors and book schedules. So, for all your painting needs in Zionsville IN, contact Dutchpopp now!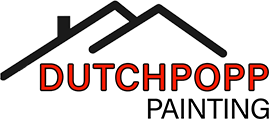 Get Your Free Quote Today