Signs It's Time To Repaint Your Carmel Home's Exterior
Paint is one of the biggest factors in what gives your property its characteristics. Although landscaping and decorations play a part, a fresh coat of paint or a new color of paint can completely transform the look of your property. Repainting the exterior of your house is a large-scale project, and it is understandable if you are hesitant to plan it if you are unsure about when to repaint. In most cases, when people think it is time to repaint, they are right. When you decide that you need or want to plan an exterior painting project in Carmel IN, Dutchpopp Painting is here to help. These are some telltale signs that it is time to repaint the exterior.
Peeling or Cracking Paint
Chipping, peeling, flaking, bubbling and cracking paint are all signs that it is time to repaint. Exposure to the elements, moisture damage or even structural damage can cause paint to separate from the exterior surface. Another problem is improper surface preparation. For example, if you moved into the home within the last couple years and notice that the paint is chipping away already, it may be because the previous owner tried a DIY approach or hired an unqualified handyman to paint. Whenever the surface is dirty or has peeling paint that is not scraped, sanded or removed, it can cause the new coat of paint to peel prematurely. There are also other mistakes that can cause this.
Fading Paint
Paint fades over time. The sun, snow, freezing temperatures, rain and wind are all factors that negatively affect paint. When your paint starts to fade, you may notice that it looks duller in certain areas that have more sun or moisture exposure. Fading paint is not just an eyesore. It is also a warning sign that your paint is deteriorating, which means that it is losing its ability to protect the siding.
Dusty Paint
It is normal to see a dark form of dusty residue on the side of your home when it is dry and windy. However, if you notice a chalklike residue that is white, it is from your paint. This happens when paint begins to break down and the pigment separates. Like fading paint, it is a sign that your paint is no longer providing decent protection for your siding. As it continues to break down, it will only leave your home prone to multiple types of damage.
Stained Paint
When your paint is stained, the good news is that you can usually clean away most stains. For example, stains from dirt or most types of residue will wash away with the help of a pressure washer. If you notice a lot of mold or mildew growing on your exterior, a professional may recommend a power wash to help kill the bacteria. A power wash is similar to a pressure wash but uses hot water instead. If the stains are because of moisture, it is time to repaint. They will not wash away and are signs that your home is in danger of more serious moisture damage. Having a professional painting contractor apply a fresh coat of paint helps give your home the protective finish it needs.
Old Paint
When paint gets old, it simply starts to break down. Even if it is not chipping or peeling extensively, old paint becomes brittle. Once it does start to chip or peel, it usually continues coming off quickly. As a rule, professionals often recommend outside house painting every five or six years. The condition of your siding, the current condition of your paint and other factors may increase or decrease that longevity estimate. If your paint is old, it is a good time to consider planning and budgeting for professional exterior painting. Planning ahead will help save you from the headache of trying to find a painting contractor in a rush.
Undesirable Color
Whether you moved into a house that has a color you are not too happy about, or you painted your home a trendy color a few years ago that you are now unhappy with, fresh paint can solve the problem. Many people repaint to change the color even if the paint is in excellent condition. Professional painters know how to help you find the exact color you need.
Top Benefits of Exterior Painting
When contractors handle outside house painting jobs, they often notice problems that are easy to overlook. For example, a crack in exterior paint may indicate a crack in the siding as well if the siding is stucco. This could be a structural issue that the homeowner should address promptly. For another example, a painting professional may notice signs of termites, carpenter ants or other destructive pests. They can also see signs of wood rot on trims that may affect paint and the home itself. This benefit may help homeowners find problems before they become worse and more expensive to fix.
Another benefit of fresh exterior paint is that it can boost a home's value and curb appeal. If you want to attract buyers or rent out your home as a vacation spot, people are more likely to be interested if your paint is attractive and in good condition.
Find a Professional Exterior Painter in Carmel IN If you are ready to repaint your exterior, Dutchpopp Painting is here to turn your ideas into reality. We have years of experience with outside house painting jobs and an excellent track record. Our team of friendly and professional tradesmen complete every project within the limits of your budget and on time. As a fully insured and licensed company, we give you the assurance of quality and satisfaction in our work. For a free estimate on new exterior paint, please contact us.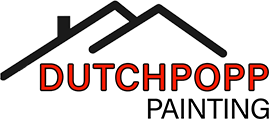 Get Your Free Quote Today