Indiana Exterior Remodeling Designs and Ideas for Summer
In addition to bringing longer days and warmer temperatures, summer may inspire you to spruce up your home's exterior. Over time, factors like exposure to the elements, pests and more can wreak havoc on your home, the fence and the deck. These are all surfaces that require periodic care, such as through painting or staining. At Dutchpopp Painting, we know that homeowners in Fishers IN do not want to spend their limited free time laboring over major home repair projects. Hiring painters near me for your exterior painting projects is the easy way to see the results you want. What can you expect from our exterior home painting services?
Spruce Up the Deck
Is your deck showing ugly signs of wear and age? The stain on the deck boards and railing can wear off when it is exposed to the elements. When this happens, the underlying wood is exposed to wind, rain and other forces. These forces can cause the wood to dry out, splinter and even rot. Applying a fresh coat of stain periodically will protect the wood from this damage and can keep your deck looking great over the years.
When you hire our painters near me to stain your deck, we will walk through a few important steps to produce impeccable results. Initially, we will power wash the deck. By removing the grime, we may identify some damaged boards that need to be replaced before the stain can be applied. Once the entire deck is clean and in great shape, we can apply any color of stain that you choose. Increasingly, our clients are asking for a two-tone stain to add an extra layer of personality to their outdoor space. Through a color consultation, we can help you select one or more stain colors that you will love.
Improve the Fence
The wood in your fence is just as susceptible to damage from the elements as your deck boards are. When the wood is splintering or worn, it may be more likely to break. This can impact your privacy and security, so you understandably want to do your part to protect the wood as much as possible. Regular staining is essential for the longevity of your fence, and our team of exterior painting specialists is ready to get started.
As is true for the deck boards, the fence boards must be in great shape before the stain is applied. Because of this, we always replace broken or worn boards upfront. We also power wash the fence so that the stain can be absorbed properly. To ensure beautiful results that you will love, we recommend choosing a stain color that is a lovely complement to the home and deck.
Refresh the Trim and Siding
From time to time, your home's siding and trim will need to be repainted, and we are the exterior painting team in Fishers IN that you can trust to do great work. Through exposure to damaging weather conditions, the paint on these surfaces may eventually fade, flake or peel. This leaves the underlying wood exposed to the elements and susceptible to water damage and rot. While paint enhances curb appeal, it also seals and protects the trim and siding to ensure their ongoing great condition.
An exterior painting project for your home begins when we scrape off the old paint. Then, we will power wash the building from top to bottom. By completing these steps, we may find that some boards are damaged and need to be replaced. Once the repairs have been made, an application of primer will be applied. One or two coats of paint will then be applied to finish the project.
Repair Damaged Gutters
The last thing that you want is for your fresh paint to be worn off quickly by exposure to water. Without functional gutters, rainwater will spill down the side of your home. In the process, it will wear away the paint and will eventually lead to serious water damage. You can easily prevent this from happening by ensuring that your gutters are in great condition. Our team can inspect your gutters, and we are happy to make any repairs to ensure their full functionality.
Request Exterior Home Painting Services Today Do you have your mind set on improving your home's exterior this season? From sprucing up the siding and trim on your home to re-staining the deck and the fence, there are several projects that may have your attention today. We are excited to hear about your plans for your home in Fishers IN. To set up an appointment for a color consultation and to get a quote for your next project, contact Dutchpopp Painting by phone or online today.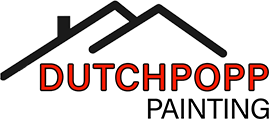 Get Your Free Quote Today