Ideas to Make an Interesting Statement When Painting Your Indiana Ceilings
While ceilings are primarily regarded as essential structural features, they also make for excellent canvases. When jazzed up with paint, ceilings can transform the look and feel of any room. Though you might not realize it, your eye is often drawn to the ceiling.
With that said, you can breathe new life into a room's aesthetic by adding a subtle, dark, or bright hue to the ceiling. As a seasoned painting contractor, we've seen firsthand how transformative this home renovation project can be. If you're looking for inspiration, here are some design tips from our proficient interior painters.
Dark/Bold
With dark or bold colors, you'll effortlessly bring out other colors. For instance, a dark red ceiling will help highlight yellow accents throughout the room. For added flair, consider matching your curtains to the color of the ceiling. Not only will this make for a nice finishing touch, but it'll also create a cohesive look. With guidance from a professional, you can determine which color will complement other hues in your space.
What's more, bold shades like bright yellow make a striking statement. In other words, colors that are vivid and intense add an extra wow factor. In our experience, we've found that flashy colors help set the tone. If you're worried that a shade will be too loud or obnoxious, we'll help you find the ideal balance. In essence, using our keen eye for interior painting, we'll steer you in the right direction.
Add Contrast
A little bit of contrast goes a long way. Accents like molding, decorative trimming, and lights are architectural elements that you can use to add contrast. With contrasting hues, you'll draw attention to both the ceiling and focal points around the room. Simply put, if you want your ceiling to stand out, explore all facets of the color wheel. Once you've found two opposite hues that pair well together, add one to your ceiling, and add the other to features like windows, cabinets, and door frames.
Consider The Finish/Texture
As ceilings age, problem areas arise. From blemishes to uneven spots, imperfections run rampant. To disguise these flaws, add a finish or texture to your ceiling. For example, with a matte finish, you'll seamlessly cover up cracks and damaged areas.
Adding a stucco texture will offer the same results, concealing any abnormalities you wish to hide. This approach requires more precision and expertise than painting. To ensure a flawless finished product, enlist the helping hands of a painting contractor. With our know-how at your disposal, you'll discover which design option is right for you.
Metal Tile
Much like many trends, what was once fashionable is now stylish again. This rings especially true for decorative ceiling tiles. Best of all, these tiles come in various sizes and styles. While some people like the simplicity of natural metal, others prefer ornate designs.
No matter which avenue you pursue, you're promised a unique, modern look. In addition to looking chic, metal tiles also stand the test of time. With that in mind, if you're looking for a durable option that adds eccentricity to your design scheme, opt for metal ceiling tiles.
Beadboard/Siding
Siding and beadboard are other highly sought-after alternatives. With siding, you can achieve a rustic aesthetic by staining it. You can also play around with the texture of the beadboard. If you're going with a less is more approach, a simple paint job will also add dimension and creativity. By adding texture to either siding or beadboard, you'll give the illusion that your ceiling is higher than it is. It's for this reason why beadboard and siding are preferred by those who want to make drastic room transformations with their ceiling.
With a little imagination, you can make your ceiling the most interesting aspect of your room's design. However, tackling a project of this size is easier said than done. If you don't want to brave the process alone, place your trust in our interior painters.
Your Go-To Painting Contractor In Westfield IN At Dutchpopp Painting, we've mastered the art of interior painting. Between our years of experience and world-class customer service, we have a proven track record of success. To learn more about how we can assist with all your painting needs, give us a call today at 317-268-8938. You can also receive a free quote by filling out this online form.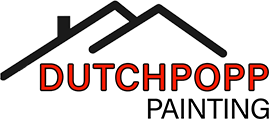 Get Your Free Quote Today