How to Know if a Painted Brick Fireplace Will Look Good in Your Indiana Home
Some home improvement choices, like the color of a painted brick fireplace, are more challenging than others. Don't take painting the brick surfaces of your fireplace lightly just because you have one. Removing paint off brick involves enormous effort and frequently ruins the surface, even though painted brick is simpler to clean and care for than bare brick.
You've made a lifelong commitment once you paint a brick surface. This risk should only be taken if you are confident that your brick painting design will yield the desired results. We've compiled a few tips to help you determine if a painted brick fireplace suits your space.
Knowing When Your Brick Fireplace Looks Good
There are several ways to tell that your painted brick fireplace looks good. They are all subtle indicators, so you need to be an expert at inspecting and evaluating indoor home decor to spot the difference. Here are a few telltale signs.
You Want Your Fireplace to Blend in with the Decor
A fireplace is often the focal point of whatever room it is placed in. You would want this element to be less power-hungry, no matter how much you adore it. If you'd instead blend in with the rest of the room, you can do so with a creative interior painting by giving your brick fireplace the same paint as the rest of the walls.
If you want to see how your fireplace might appear painted to match the rest of the walls in your room, you may use one of the many internet programs that allow you to try out virtual paint colors.
You Want Your Fireplace to Be Unique
You might find your fireplace's uniqueness a welcome feature. You'd like your fireplace to be even more of a center of focus in the room. Naturally, you'd want brick painters to choose a contrasting hue to paint your fireplace, like what you'd use on an accent wall. You may get a sense of your finished product before using virtual painting programs.
Your Fireplace is Dating Your Interior
A fireplace is a great way to add a touch of rustic elegance to any space. However, an older fireplace or one built in an older design might give a room an antique ambiance. Luckily, updating your house for the modern day can mean something other than tearing down your fireplace. Instead, you may hire brick painters to give your fireplace a facelift with a new coat of paint.
Indoor fireplaces should be painted in the same style as the rest of your home's interior painting. The aforementioned minimalist design is currently the most popular choice for fireplaces in contemporary homes (i.e., painting the fireplace the same color as the wall behind it). To get a look that is at once contemporary and rustic, many homeowners whitewash their fireplaces instead of painting them.
When in Doubt, Ask the Experts
As we've seen, there are a few scenarios in which painting your brick fireplace makes sense. Nonetheless, you might have doubts. Still, you can only tell how great a brick fireplace will appear after it's painted once the job is finished. Therefore, before making the ultimate decision concerning brick painting, it is advisable to seek the counsel of experts.
If you have questions or concerns about painted brick, such as how long it will last, how to care for painted brick or how different paint colors will interact with one another, you may get answers from our professionals. At Dutchpopp Painting, we have numerous areas of expertise, and brick painting is one of them. Throughout Fishers IN, we have entirely renovated hundreds of houses' brick exteriors and interiors.
You can contact us at Dutchpopp Painting to set up an appointment and learn more about our services. No matter what you choose for your home renovation project in Fishers IN, we will be able to provide you with quality work that will keep you smiling for years to come. We will provide customer service throughout the painting process, so you know exactly how long your project will take and what to expect before, during and after completion.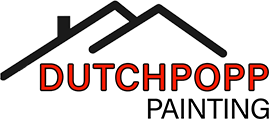 Get Your Free Quote Today