How Often Should the Interior of Your Indiana Home be Painted?
The interior painting of your Whitestown IN house can be intricate, especially if you want to complete it all at once. Naturally, a lot of people have inquiries regarding it. Specifically, how frequently should your home be painted?
Considerations include wear and tear, frequency of use, and purpose of the rooms, among other things.
Every room is a little different; high-usage areas usually require more frequent painting, but other parts may last for years without needing to be replaced.
How Often Should You Paint Interior Walls?
You may ask how frequently your walls should be painted if you're employing professional inside house painters for interior painting.
Due to normal wear and tear, some walls in your home require painting more frequently than others.
Dining area and living room
The most-used rooms are typically the dining room and living room. Also, in that order, assuming everyone uses the dining room table for schoolwork: a desk, a workstation for crafts, and a place to unpack packages.
Your findings may differ depending on the specific location and use of the common area. There isn't much wear and tear on your walls because the living room is where most people unwind and lounge on the couch.
If you select high-quality, long-lasting paint for these rooms, you most likely won't need to repaint them for several years.
Every five to seven years, you should paint the interior of this room.
Kitchen
The kitchen is typically a bustling space because it is thought to be the hub of the home. The amount of activity in a kitchen puts them under a lot of strain.
In the kitchen, where people congregate, they are probably bumping into and touching the walls more frequently than in other areas. Cooking splatters, grease, and food preparation generally need you to wash the walls more frequently, affecting how long your paint lasts.
Even if you use the most lasting paint finishes, kitchens still require more regular painting than other rooms in your home. Typically, they need to be repainted every three to four years.
Bedrooms
If you don't have children, you'll find that the paint in your bedrooms can last a very long time. Since adult bedrooms are typically used less frequently than bedrooms for children, you might postpone repainting until you wish to switch the color.
Kids' bedrooms are different because they are also used for play. Professional inside house painters usually use satin gloss when repainting the walls of a child's bedroom.
This will ensure that the paint lasts longer, even after repeated cleanings. Kids' bedrooms often require painting every two to three years.
Hallways
Your home's halls and corridors are used for walking more frequently than any other area. As a result, these regions will exhibit significantly more dents, scuff marks, and other signs of wear and tear.
Get expert painters to repaint these areas every two to three years to keep your paint appearing new and fresh.
Ceilings
Ceilings often don't need to be repainted unless there has been water or mold damage to the area. However, if you're repainting the entire room, a fresh coat of paint on the ceiling will help it match the shine and appearance of the improvements you made.
Additionally, paint can freshen up the look and smell of your ceiling if it has stains that washing cannot remove.
Trim and baseboards
Your baseboards take a beating from vacuums, foot traffic, and errant toys, just like your hallways do. To keep them looking good, paint your baseboards every two to three years.
The trim around doors, windows, and crown molding is safely out of reach and doesn't need frequent painting. But with time, debris and dust can deteriorate the paint in these spots if you don't regularly clean them. You'd be astonished at how a new coat of paint on these surfaces can make a space feel new again.
Painting Interiors in Whitestown IN
When considering interior painting for your house, consider DutchPopp Painting.
DutchPopp Painting has a reputation for providing exceptional painting quality and customer service. Get in touch with us to arrange a free estimate to learn more about what they can do for you.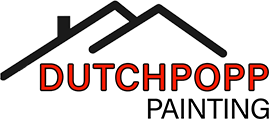 Get Your Free Quote Today