How Hot Weather Impacts Indiana Exterior Painting
Are you looking forward to updating your home with an exterior painting project this summer? While you may be enthusiastic about hiring the right painters near me for the job, it is also important to choose the best time to book exterior home painting services. Many homeowners in Noblesville IN and throughout surrounding communities may assume that summer is the perfect time for an exterior painting project. After all, there is ample sunshine and the temperature is warm. However, summer is not actually the best season to paint the outside of your home. Our focus at Dutchpopp Painting is to create gorgeous results that our customers love, and we are available to help you learn more about summer home painting services.
What You Need to Know About Paint Curing
When the temperature is warm and the sun is shining brightly, it may only take a few hours or less for the paint on your home's exterior to dry. Paint feels dry when its solvents evaporate quickly, but this does not mean that the paint has cured properly. More than that, when the paint dries too quickly, damage can occur. Keep in mind that it may take up to two weeks for exterior paint to cure fully, and curing is necessary for the paint's durability.
If the paint is exposed to rain before it is cured, its appearance and condition will be negatively affected. Excessive heat can also cause paint damage. For example, when the paint dries too quickly, issues with cracking, blistering, bumping and discoloration can be problematic.
The Best Conditions for Outdoor Painting Projects
The best weather conditions for exterior home painting services are mild temperatures and low humidity. More specifically, many types of paints should only be applied when the temperature ranges between 60 degrees and 90 degrees Fahrenheit. The ideal temperature range for latex paint, however, is between 50 and 85 degrees. Keep in mind that the air temperature and the surface temperature of the house may not be the same. In fact, an exterior surface that sits in direct sunlight may be up to 20 degrees warmer than the air temperature. This means that it may not be recommended to paint all sides of the home on an 85-degree day, for example.
Painting Your Noblesville IN Home in the Summer
As you search for painters near me to work on your project, you may find a few painters who are eager to get your project completed as soon as possible and regardless of weather conditions. At Dutchpopp Painting, we want you to enjoy lasting results from our efforts, so we always choose the most ideal weather conditions when painting our customers' homes. In some cases, it may be ideal to paint the shaded sides of a home on a warm afternoon in the summer, but the temperature on the sunny side of the house may not be perfect. Often, the sunny side of a home should be painted in the late morning before the temperature is excessively warm. When you book our exterior home painting services, we will carefully review forecasted weather conditions before creating a firm schedule for your project.
How Humidity Affects Exterior Painting Results
In Noblesville IN, humidity can reach high levels during the summer months. High humidity can result in a thin layer of moisture accumulating on a home's exterior surfaces. While this moisture may seem minimal, it is often sufficient to alter the ratio of water to solvent in paint. As the paint is applied in humid conditions, it may become slightly thinner, and it may require more time to dry. If the paint is applied to moist wood surfaces, the paint may be more susceptible to peeling or bubbling.
Our Focus on Creating Beautiful Results
While you could get quotes from any number of painters near me, we are the exterior painting team that you can count on to create impressive results that you will love. We always review the forecast before we schedule exterior home painting services for our customers. Both humidity levels and temperatures are taken into consideration so that conditions are ideal for painting. Once a project is started, our exterior painting crew in Noblesville IN will work efficiently so that you can start enjoying the results of our efforts as soon as possible. At the same time, however, we never lose sight of quality workmanship.
Exterior painting projects in the Noblesville area can be completed during the summer in some cases. However, weather conditions may be most well-suited for exterior home painting services during this spring and early summer. The spring season in the local area usually has relatively low humidity and mild temperatures.
Request a Consultation Today Are you ready to start planning your upcoming exterior painting project? Our experienced team at Dutchpopp Painting is eager to speak with you. Through a consultation at your property, we can provide you with a free estimate that reflects our competitive rates. We can also talk about the best time to schedule your project. Because we want you to love the end result, we also are happy to consult with you on colors for your project. Reach out to us today for an exterior painting consultation.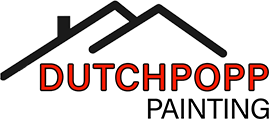 Get Your Free Quote Today