Get Inspired with a Home Gym Renovation
Having access at home to something as simple as a room or area dedicated to the fitness style you love is a great way to add healthy exercise to your daily routine. Whether you already have a dedicated home gym, or you are looking to convert a space into a workout room in your Whitestown IN home, new paint and a few finishing touches can take the area from bland and boring to motivational. The use of color is well-known to influence how we feel, so using a thoughtfully chosen hue of a fresh coat of paint can create an energizing or calming atmosphere in your home gym space to make sure you get the most out of your newly renovated space.
Colors to Match Your Workout Style
Amping up the style of your new space can be as simple as contacting a painting contractor to give you a quick interior painting estimate to get the job completed quickly and efficiently. Lining up the professional to complete your home painting needs is just the first step in completing your home gym creation or renovation. Next, select a color that reflects the use of the room or your own personal style of working out. Yoga lovers will want their space to suggest a calm, relaxed experience, while cardio junkies might look for a hue that reflects higher energy during exercise. Here are a few of our pairings to help you choose the correct color choices that will be perfect for painting your home gym.
Hot Hues
Bright, fiery tones encourage big energy. If your workouts consist of high-energy workouts with lots of reps, cardio that makes you sweat, or even weightlifting, try painting your walls in shades of red, orange, and yellows. These tones can be overpowering, so ask your painting contractor to start with one or two walls instead of the whole room so you can determine how the hot hues make your room feel.
Calming Shades
If your workouts lean more towards relaxing yoga, meditation practices or Pilates, using calming paint shades will encourage a calming feeling in your home gym. Light blues and earthy greens are excellent color choices that will encourage a Zen den feeling.
Cool Colors
All workout spaces in Whitestown IN homes could benefit from colors that keep you cool while you pump iron or spin your way to good health. Whether you are powering through that next rep or sweating it out through a cardio session, icy shades of blue and grey will provide a visual cooldown when the workouts are hot.
Keep it Neutral
If your home gym is filled with equipment and supplies, you might want to consider adding a home painting plan that includes neutral tones. With bright colors on visually busy workout equipment, balancing out your home gym with a palette of neutral tones will add a touch of style while freshening up the look of the room.
Finishing Touches: Make the Space Work for You While Looking Beautiful
While fresh paint and workout equipment will certainly create a lovely, usable space, including some smart touches to your home gym turn it into a place you will love to use.
Organizational Strategies
Don't forget to provide ways to keep your home gym functional and organized. Simple additions can make a big difference in creating a space that is inviting and exciting, both key characteristics of a home gym that you will want to use. Add in some shelves to hold towels or light gear or equipment. A small fridge is perfect for chilled water, cold towels, or even post-workout sports drinks. For equipment like yoga mats, blocks, straps or bolsters, consider a set of cubbies or bins to keep things neat.
Light and Bright
Don't forget to think about lighting that works for your workout. Natural light is best, but not all rooms have adequate windows to provide an energizing, bright space. Consider adding in an overhead light fixture to avoid low lighting which can feel demotivating in a home gym space. Exercises that focus on relaxation or meditation techniques might benefit from a dimmer-controlled light switch as well.
Reflect Your Efforts
Public gym spaces often include mirrors, and for good reason. Keeping an eye on your technique and form is an essential part of working out effectively. The bonus to adding mirrors to a home gym is they visually expand the space so that even the smallest of home gyms can feel bigger and grander.
Make it Yours
The last finishing touch you should consider is simply to include a few touches that make the space personal. Use your own personal style and flair to create a personalized space that you will love to use. Some fun home gym additions might be a chalk or whiteboard to keep track of your results, inspirational quotes or even framed pictures that keep you motivated to keep working on your health in your newly created home gym.
Get Your Interior Painting Project Started with Dutchpopp Painting
We hope that you are inspired to renovate or create your own home gym space. To help you create a workout space that you will love to use, contact Dutchpopp Painting to get started with your home painting project. We promise excellent service from start to finish. We can consult with you about picking the perfect hue for your home, work with you on scheduling a convenient time for our services as well as guarantee we will provide professional paint application to your home. Still have questions? Contact one of our professional interior house painters at Dutchpopp today, we're happy to help!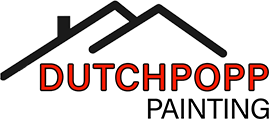 Get Your Free Quote Today