Colorful Ideas to Paint Your Kitchen Island in Indiana
The kitchen may be the heart and soul of the home but creating a personalized space that expresses your sense of style is easier said than done in this room. Regardless of how large or small your space is, the room is heavily designed with built-in features like cabinets and counters. You may think that personalizing the décor in this room would require you to rip out the built-ins and complete a full renovation. While this is one option, a more affordable and more powerful solution is available. If your kitchen has an island, you could achieve stunning results through a cabinet painting project. Our interior painters at Dutchpopp Painting in Noblesville IN will handle all aspects of the project, and this includes assistance with color selection, all of the required painting steps and even cleanup efforts when our interior painters are done.
Selecting the Right Color Your Kitchen Island
When you hire a painting contractor to paint the island's cabinets, the island will stand out from the rest of the cabinets. Both the color and the tone of the island's paint can affect ambience, mood and overall style in the space. Regardless of whether you go a few shades darker or you choose an island cabinet color that stands in bold contrast, a dual-tone color scheme for your cabinetry will make the island a true focal point. Because of this, quality workmanship from your interior painters is just as important as the paint color selection. Our professional painters at DutchPopp Painting never cut corners, so you can feel confident that we will produce results you will love. While there are a multitude of colors that you could select, a look at some of the main color families will help you with your selection.
Blue
Blue is a versatile color because it can correspond with so many other tones and hues in a room. While it is known for evoking a calm, relaxed feeling, the actual impact on your space will be determined by the shade selected. For example, navy blue is a dramatic, sophisticated color that pairs well with many other colors throughout the color wheel. On the other hand, a dusty or foggy shade of blue may have hints of gray tones. It may have a far more subdued impact on the ambiance compared to a robin's egg blue and other bright shades.
Green
From a pale mint green to a dark olive green and a variety of other shades in between, green is also a versatile hue to work with. The right shade of green can pair well with everything from beige to navy. The impact of your color selection can range from peaceful to energetic. Regardless of the shade selected, green will make a lovely statement in your kitchen.
Red
Red is a brilliant color that is often associated with energy, but it can be intimidating to work with because of its bold look. Keep in mind that red is available in shades that range from tomato to crimson. The right shade of red may pair well with tan, cream, brown, gray and other neutral tones.
Black
Black is a deep color that you may not want to use throughout the kitchen, but it could make a powerful statement when used on your island's cabinets. It may look amazing with an extensive range of colors, and its versatility is boosted when you compare the impact of matte paint versus a high-gloss finish. If you are searching for a dramatic color with timeless appeal, black is a color to consider for your cabinet painting project.
Gray
Gray continues to be a popular color in home décor, and its shades range from foggy gray to charcoal. Because of its versatility and variations, you may find a lovely shade of gray that works well with any other colors that you intend to use in your space. This includes everything from neutral beige tones to stunning red shades. Depending on the shade selected, gray can be a warm, cozy color to work with or a sophisticated, cool color.
The Cabinet Painting Process
In order to produce lovely results that you are proud to display in your kitchen, the proper steps for cabinet painting must be completed. As your painting contractor, we will never rush through any of the steps. Our interior painters understand the importance of quality workmanship, so we will do all of the cleaning, priming and other prep work upfront before we apply the paint. Often, multiple layers of paint are required, and we will allow each coat of paint to thoroughly dry before applying the next coat. Our team will also apply the protective top coat and clean up before we leave.
Your Preferred Painting Contractor
We are an experienced painting contractor that has been serving clients in Noblesville IN for many years. Our painters are known for doing great work, and they are also friendly, punctual and respectful. By hiring us as your painting contractor, you are choosing to enjoy a great process and beautiful results that you are proud to show off.
Request a Consultation for Your Cabinet Painting Project Finding that perfect shade to use for your cabinet painting project is crucial, and we will happily offer our advice through a color consultation. When we meet with you, you will also have the chance to learn more about our team of interior painters and our process for cabinet painting. To request a color consultation and a quote for your project, contact DutchPopp Painting.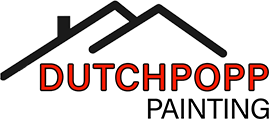 Get Your Free Quote Today