Color Trends for Indiana in 2022
Not quite satisfied with the look of your Whitestown IN home? Considering taking advantage of the unusually high home prices and selling? Then you should also consider enlisting the services of a home painting pro to give your place a fresh look and feel.
Thinking that you can handle that task by yourself? Sure, you can DIY it. Of course, quality interior house painting isn't something a DIY job can ensure. A home painting pro brings the experience, along with the professional-grade equipment, to make your home look great inside and out. They can also help you pick out the best colors for 2022.
Why You Want Painting Pros on the Job
Your home is likely your most significant financial investment. It's also the place where you spend the most time outside of work. Quality house painting lets you preserve that investment and improve your quality of life a little.
If you get the exterior painted by pros, you get a bit more curb appeal for potential buyers. Plus, you get the satisfaction of seeing it every day. If you get some interior painting done, it's one more thing you get to enjoy about the inside.
Beyond that, you get a few key benefits when you hire a professional for home painting. The job gets done faster than any DIY project. You almost always end up with a more consistent paint job. You also avoid most, if not all, of the accidents and messes you get when you take on the job yourself. For home sellers, that quality will shine through if only on a subliminal level for potential buyers.
2022's Home Interior Paint Colors
There is plenty of advice out there about what home interior paint colors you should use, particularly when selling a home. The stock advice is that you should always pick a neutral color. Of course, there is more than one neutral color, and color trends change over time. Plus, what flies in New York City or Los Angeles might not do so well in a place like Whitestown IN.
Here are the interior colors that we see making waves locally that you should keep in mind for your home painting project.
Gray Green
Green has always been a popular fallback color because it reminds people of nature, particularly in those cold, winter months. It's seen a surge in popularity in recent years, though. Playing into that nature trend, we see more people opting for a bit of gray in the green to give it an earthier, forest-like look and feel. Even better, these are colors that can work for virtually any room in a home. It's a particularly popular choice in the kitchen.
Graphite Gray
Not everyone craves the comfort of nature or looks for a bit of visual pop. If you like your rooms to have a sense of depth, then you'll want something like graphite gray. Not only is it neutral, but also makes for an excellent counterpoint for accent walls or molding painting in neutrals like tan or cream. If you're feeling a little bold, you can even use straight white for that accent wall or that molding.
Beach Blue
Blue is one of the most versatile neutrals you can find. It can range from the nearly gray to almost neon (although that's not a recommendation). Falling back on this year's general theme of nature colors, beach blue has become a very popular choice. Evoking the sky and the sea, if you toss in just a hint of green, it gives your rooms a fresh, outdoors feel.
Peach
Rounding out the nature-oriented options is peach. Some shades of peach fall decidedly outside of the neutrals you want for selling a home, but a pale peach fits the bill nicely. It's an upbeat color that's great for a bedroom or bathroom. You might not want it a primary color in a living room, but it could make for an excellent accent wall. This is another color that pairs well with other neutrals, like white or cream.
Consider Dutchpopp Painting for Your 2022 Home Painting Needs
Now that you have a handle on the popular colors for 2022, it's all about picking the right one to give your home the look you want or to give it a facelift for selling.
Dutchpopp Painting offers nearly 20 years of home painting experience in and around Whitestown. We can help you pick the right color for your home. Plus, all of that experience lets us build a strategy for your home painting project. Something this is more important than ever with so many people still working remotely. Contact Dutchpopp today for more information or a consultation.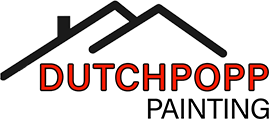 Get Your Free Quote Today