Choosing the Perfect Exterior Paint Color for Your Whitestown Home
Selecting an ideal exterior shade for your Whitestown IN abode can significantly upgrade your property's façade, making it a valuable yet economical solution. However, it's a task that can have two outcomes – a wisely chosen shade palette can boost your home's aesthetic appeal, while a mismatch could render it unattractive to the neighborhood. So, how can you navigate towards the positive outcome? This task becomes more manageable by considering some crucial aspects when determining the right hue scheme for your house's outer shell.
Understanding Your Home's Architectural Design
Before delving into the world of color samples and combinations, it's vital to understand your home's architectural style and period thoroughly. The design of your home will significantly guide the color spectrum that can uplift its appeal. A shade unsuited to your home's architecture could make it awkward.
The exterior shade you select for your home should perfectly straddle the line between integration and uniqueness within your neighborhood's aesthetic setting. Therefore, a useful step would be to research which colors most effectively highlight your home's design. This essential move can aid you in pinpointing the ideal shade for your home's exterior.
Insight from Our Skilled Exterior Painters: Even if your house naturally favors more subdued shades, don't shy away from introducing a vibrant splash of color in surprising spots. For example, dressing your front door in a bright hue can infuse character into your home's exterior color theme.
Acknowledging Your Home's Construction Materials
The construction materials employed in your home can greatly inform your color choice. Aspects like stone, tile, brick, and other components of your house's exterior must be taken into account when determining an exterior shade. The objective is to steer clear of color discordance with these features. Choose a color that syncs well with the natural hues of these exterior elements.
Maintaining harmony with existing undertones allows you to establish a sense of equilibrium and unity among all exterior features of your home. The expert residential painting contractors at Dutchpopp possess the necessary acumen for this. Their extensive experience equips them with an eye for color combinations that blend seamlessly, helping you choose a palette that augments rather than diminishes your home's overall aesthetics.
Observing Your Neighbors' Houses
In the absence of stringent homeowners association (HOA) color regulations, you have the freedom to adorn your home in any shade. However, it's advisable to consider the exterior shades of neighboring homes before deciding. While there's no need to replicate their colors, an exterior shade that blends with nearby houses can contribute to a harmonious neighborhood appearance.
Distinctiveness is desirable, but it should be tastefully accomplished. Our exterior painters at Dutchpopp Painting appreciate this equilibrium. They can assist you in choosing a color that enables your home to stand apart gracefully. Ultimately, the goal is to become a remarkable presence, not an unsightly one!
Don't Forget the Local Natural Elements
The local environment around your home can provide valuable color inspiration. So, consider the natural surroundings when selecting an exterior shade for your house. If your home is nestled amidst rich, green foliage, avoid bright colors that could conflict with the greenery. Instead, opt for soft, neutral hues that meld smoothly into the landscape.
Conversely, if you reside in an arid, desert-like locale, shades with earthy undertones can help your home beautifully integrate with its environment. In all cases, the objective is to select a hue that maintains harmony with your home's natural setting.
Consulting with Experts Can Be Highly Beneficial
Making decisions can be challenging, particularly when they involve long-term commitments such as the exterior hue of your home. If you need more time to feel overwhelmed by the choices, consider seeking advice from the residential painting contractors at Dutchpopp. With their vast experience, they can offer professional color consultation to ensure your chosen color scheme truly enhances your home's exterior.
Reach Out to Dutchpopp Painting for Your Exterior Painting Needs
Remember these five crucial aspects when you're prepared to rejuvenate your home with a fresh look. With the help of our Whitestown IN exterior painters at Dutchpopp, your residence can strike the perfect equilibrium between harmonization and distinctiveness.
Isn't it time to give your home the facelift it deserves? Contact Dutchpopp Painting today to schedule a color consultation, receive a cost estimate, or discuss any other painting requirements. We're here to turn your exterior painting concepts into a colorful reality.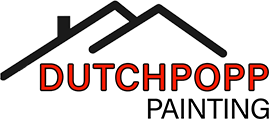 Get Your Free Quote Today