Bathroom Paint Colors that Won't Go Out of Style in Indiana
When you want to update the look of your home to improve its value or to match the interior design with your personality, repainting your bathroom is a great way to provide the interiors of your home with a modern and fresh appearance. If you're interested in painting your bathroom, keep in mind that there are a myriad of fantastic colors that you can choose from, some of which work better than others. If you want to make sure that the paint you use won't go out of style, there are a selection of colors that you should consider. To find the right color for your bathroom, consider contacting a residential painting contractor to help you determine which finishes and colors are ideal for your bathroom.
Paint Colors for Your Bathroom That Won't Go Out of Style
If you want to repaint the interiors of your home without spending a significant sum of money, your bathroom is a great place to start. These areas are relatively small in size but are considered to be focal points of the home, which means that you can effectively increase the value and appeal of your home by repainting the bathroom with a color that won't go out of style. If you don't want to repaint the bathroom on a regular basis, you should select colors that are considered to be classic and timeless. Our home painters here at Dutchpopp Painting have gathered a small selection of paint colors that should always be in style.
How to Select the Best Paint Finish for Your Bathroom
When you're selecting a paint finish for your bathroom, you'll find that there are many distinct options available for you to choose from. The list of bathroom paint colors that's detailed in the following should give you a better understanding of the best paint finishes while also discussing the pros and cons of each.
Satin – This particular paint finish is notable for having a glossy sheen to it as well as a small amount of water-proofing characteristics. If your bathroom is outfitted with certain features and amenities that don't produce much humidity, you should think about using a satin finish.
Eggshell – Eggshell finishes are able to provide a bathroom with a somewhat unique texture as well as a small amount of luster. However, the maintenance required for these finishes is bothersome since the finish doesn't repel mildew or moisture. There are specialty versions of this finish that can mitigate the issues inherent with it.
Flat/Matte – If you're interested in using a flat/matte finish for your bathroom, it's highly recommended that you avoid using it entirely. This particular finish is notable for absorbing moisture, which can cause damage to the finish and make the walls of your bathroom difficult to effectively clean.
Semi-Gloss – This finish is great because it's able to properly repel moisture, which is necessary in a bathroom. Since a semi-gloss finish wicks moisture away, it's simple to clean. If you're searching for the ideal bathroom paint finish to choose, semi-gloss finishes should be a heavy consideration.
High-Gloss – High-gloss finishes are known to be easier to clean and more water-repellent when compared to semi-gloss finishes. The primary issue with using a high-gloss finish is that it can cause imperfections to stand out, which means that the finish may not look great on larger surfaces. As such, this finish should mainly be used for trim work.
Specialty Paints – The interior painting company that you select may offer finishes that are designed to be used in bathrooms, which means that these finishes will be made with additives that allow the finish to have anti-microbial and moisture-resistant properties. Keep in mind that specialty paints and finishes will cost more than their regular counterparts. However, selecting a specialty paint means that you can be more confident in the finished project.
Interior Painting Colors That You Should Consider for Your Home
When you're getting ready for an interior painting project of any size, it's important that you hire the right residential painting contractor. Our home painters have the experience necessary to guide you through the entire painting process. To start, here's a look at some top painting colors that you can use for your home.
Parchment – This is an off-white color that has subtle hints of yellow and orange. It's considered to be a neutral color, which means that it will fit within almost any bathroom. If you want a clean and sophisticated appearance for your bathroom, this particular paint color pairs shades of white and cream, which makes for a great combination. Consider using parchment paint alongside bright accents.
Gray – While gray is currently a trendy color that's being used by many homeowners, it's also a classic color that has a timeless element to it. No matter your decor or the interior home style that you're using, the gray paint color should match it. If you would like to take a contemporary and minimalist approach to your bathroom, gray paint should be paired with metallic or black pieces of decor. For a vintage look, turquoise and light yellow colors should help you obtain this look for your bathroom.
Taupe – This is a beautiful paint color that's available in a variety of shades, all of which work well when used in a bathroom. Likely the best taupe shade for bathrooms is a soft taupe, which should match perfectly with the linens in your bathroom. If you don't typically love neutral colors, taupe may change your mind.
Blue-Gray – These are two colors that work very well together. While great on their own, they make for a timeless paint color when combined. Gray works as a neutral color. On the other hand, blue hues are considered to be relaxing and peaceful, which means that combining blue with gray should make your bathroom look fantastic.
Seafoam green – If you want your bathroom to be relaxing, you should consider using seafoam green, which is a very colorful option that's ideal for homeowners who want to convert their bathroom into a spa-like area. This shade of green is relatively light, which allows it to match well with such accent colors as dark gray, white, or navy blue.
Here at Dutchpopp Painting, our professional home painters can assist you in identifying the paint colors that would best fit your bathroom. Because of the many color options that you can select from, it's highly recommended that you seek guidance through this process to reduce the likelihood that you make a mistake. Contact our interior painting company in Carmel IN today so that we can consult with you on colors and any other facets of a painting project.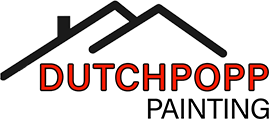 Get Your Free Quote Today