Avoid This Indiana Painter at All Costs!
Hiring professional house painters can be a great way to save yourself time and achieve the best possible results for your home painting project. Expert painters know how to get the job done right, and they have specialized equipment that allows them to work quickly and precisely. You must carefully vet your painters, though, to ensure that they are trustworthy and reliable. Unfortunately, anyone can advertise themselves as a professional painter regardless of their experience or qualifications.
The following are six of the biggest red flags to look out for when hiring painters for your Zionsville IN painting project:
1. No Contract or Estimate
An experienced painter should have a fairly good idea of what the project will cost after your initial consultation. While it's normal to run into some minor obstacles or receive a slightly higher bill than you expected, your painter should communicate clearly about the cost from the very beginning.
An inexperienced or untrustworthy painter may not give you a detailed estimate or provide you with a written contract. If they're making things up as they go along, they won't be able to answer your specific questions about the agreement. Exterior painting can be an especially big project, and you should not start the project without understanding exactly what your painter will provide and what they will charge. Lack of a clear estimate and a written contract are major red flags.
2. Lack of Experience
All professional painters start somewhere, and it shouldn't necessarily be a deterrent if your painter has limited experience. However, if your painter can't tell you about a single job they've done, you might have reason to worry. A new painter should work among more experienced painters as they learn the ropes, so you shouldn't hire someone brand new if they're not working as part of a team. Ask your painter about similar projects they've completed in the past and see if they can show pictures of their work.
3. No Reviews or References
Before hiring your painter, check online for reviews. They might have a website with testimonials, or they may have a profile on Angie's List or similar sites. A lack of reviews is a sign that your painter has little or no experience, and a pattern of bad reviews is another red flag.
You can also ask your painter directly for a list of references. Ideally, your painter should offer at least a few references who can vouch for their skills. If they don't provide you with any names or phone numbers, they may not be the right painter for you to work with.
4. Bad or Cheap Products
Skilled painters can do a great job with budget-friendly supplies, but if your painter only uses poor-quality products, you may have a reason to be concerned. You can research the paints and materials they use to see how other expert painters feel about them, or you can ask your painter for their rationale for using those supplies. Your painter might suggest a low-cost option if you're trying to reduce your budget, but they shouldn't use only low-end paints.
5. Strange Payment Requirements
Different house painters will have different systems in place for payment. It's typical for painters to ask for a percentage of the payment up-front so that they know you're willing to pay. While you may not love the idea of making a payment before seeing the work, many painting contractors have horror stories about homeowners who refused to pay their bill.
However, you should trust your gut when your painter asks for payment. For example, you might feel suspicious if the painter only accepts cash. Reliable painting companies should at least accept checks, and some even accept credit cards.
6. No Proof of Insurance
Although legal requirements for insurance vary from state to state, all trustworthy painters should be insured. An insurance policy protects the painter and their customers, so your contractor should be able to provide proof of insurance when you ask. If they refuse to show you their policy, you should be worried.
No one wants to fall for a scam or pay for subpar work. You can avoid a disaster by thoroughly vetting your painting company, contacting their references, and ensuring that everything they offer and ask for is standard practice. As long as you do your due diligence when hiring a painter, you should see excellent results with your exterior painting project. If you're looking for reliable and skilled painters in Zionsville IN, you can reach out to Dutchpopp Painting. Our team has years of experience with interior and exterior painting, and we are happy to answer any questions you may have about your painting project.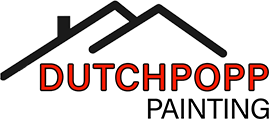 Get Your Free Quote Today